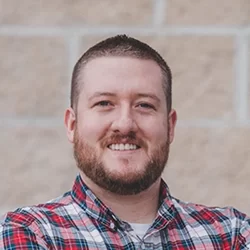 Chiropractor
Kodi Schroeder D.C.
Dr. Kodi Schroeder was born and raised in Portage, WI. Upon graduating from high school, Dr. Kodi started college at the University of Wisconsin-Whitewater with a major in Business. He struggled to find joy as he desired to find a major that would one day turn into more than a profession, but a passion.
It was then that Dr. Kodi realized he wanted to be a chiropractor. Chiropractic allowed him to live out all of his passions by studying the human body, working with children and families, and being a businessman in owning his own practice.
Dr. Kodi transferred to Grand View University in Des Moines, IA where he met his wife, Dr. Mackenzie. He graduated from Grand View University in April of 2014. He then started school at Palmer College of Chiropractic in Davenport, IA. In his time at Palmer, Dr. Kodi became involved in the Torque Release Technique club. Through the club, he was able to teach the technique to other students and practicing doctors for two years. Dr. Jay Holder, the founder of the technique, also awarded him a Research Fellow at the Holder Research Institute. Dr. Kodi is one of eleven chiropractors in the world to have received this distinction.
Throughout his life, Dr. Kodi has struggled with debilitating migraines and severe heartburn. During his time in chiropractic school, he was able to get neurologically-based chiropractic care on a regular basis. He saw a drastic improvement in the frequency and severity of his migraine headaches, as well as his heartburn. He has also seen improvements in his energy levels and immune system function.
Dr. Kodi is passionate about continuing to learn even beyond graduating from chiropractic school. He spends several weekends a year traveling to conferences and seminars that allow him to stay up to date on how best to serve his practice members. Dr. Kodi enjoys all sorts of outdoor family adventures with his wife, chocolate lab, Ryli, and daughter, Eliana. In his spare time, Dr. Kodi enjoys snowmobiling in the Northwoods, boating, hunting, and spending time around a campfire with his family and friends.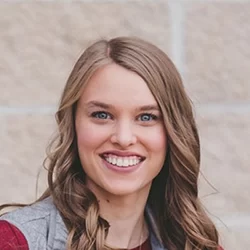 Chiropractor
Mackenzie Schroeder D.C.
Dr. Mackenzie was born and raised just outside of Des Moines, IA. After high school, she went on to play college golf and study Biology at Grand View University. During her time at Grand View, she had the opportunity to work as a chiropractic assistant for a local office.
This experience built her passion for spreading chiropractic with her community and allowed her to learn everything that goes on behind the scenes. Throughout her time as a college athlete, Dr. Mackenzie struggled with a hip injury. After two surgeries, she was still struggling to play golf without pain. Her surgeon recommended a third surgery but warned of the risk involved. Unsure where to turn, she sought help from a neurologically based chiropractor. She was able to avoid the third surgery, return to golf pain-free and even enjoy running again after just a few months of regular care. Her passion for chiropractic partially stems from her own testimonial and she is eternally grateful for the impact chiropractic has had on her life.
Drs. Kodi and Mackenzie got married in the summer of 2017 and then moved to Montrose, CO for Dr. Kodi's chiropractic preceptorship. They were able to work together and learn how to better serve their future community.
Dr. Mackenzie graduated from Palmer College of Chiropractic in Davenport, IA, and loves being able to work alongside Dr. Kodi every day. Dr. Mackenzie has completed extensive training through the International Chiropractic Pediatric Association and is passionate about providing expecting moms and children with neurologically based chiropractic care. In her spare time, you can find Dr. Mackenzie enjoying time with her husband and daughter, Eliana. She also enjoys cycling, reading by the fireplace, baking for loved ones, and relaxing on a boat with family.
OFFICE HOURS
---
Monday
10:00am - 1:00pm
3:00pm - 6:00pm
---
Tuesday
3:00pm - 6:00pm
---
Wednesday
10:00am - 1:00pm
3:00pm - 6:00pm
---
Thursday
10:00am - 1:00pm
3:00pm - 6:00pm
---
Friday
By Appointment Only
---
Saturday & Sunday
Closed